Dentures are one of the most popular methods of replacing missing natural teeth. Millions of people rely on these prosthetics to help them regain their natural teeth functionality, such as speech and eating.
However, traditional dentures are removable and may start to loosen or shift over time. This affects their integrity, causing discomfort during speech and eating. Moreover, prolonged wearing of removable dentures may lead to jaw bone shrinkage.
While they offer a solution for replacing missing natural teeth, these traditional dentures have many drawbacks. This is why advancements in dentistry saw the birth of permanent dentures.
So, what are permanent dentures? Are they better than conventional dentures? Find the answers to these and many other questions in this comprehensive guide.
What Are Permanent Dentures?
Permanent dentures are just like traditional dentures, just that they are attached to the jaw and held in place by dental implants. These implants make the dentures more stable, allowing patients to talk, eat, and smile much more easily and comfortably than with removable dentures.
These dentures look and feel just like your natural teeth and pose no risk of shifting or falling out. Moreover, unlike conventional dentures, there's no possibility of accidentally misplacing them.
Furthermore, dental implants integrate with the surrounding bone, preventing issues such as jaw bone shrinkage, and offering a permanent solution to replacing missing natural teeth.
Types of Permanent Dentures
There are five main types of permanent dentures. They all help replace missing natural teeth and offer the same benefits. However, depending on your unique situation, your dentist may recommend one of these five types of permanent dentures: 
Complete or full dentures
Complete dentures, also known as full-arch restoration, are full-coverage oral prosthetics. This is the option that functions exactly like your natural teeth. They replace an entire arch of missing natural teeth. To make complete or full dentures, the dentist uses a plastic base to support a complete set of false teeth. 
These prosthetic teeth are permanently screwed on 4 – 6 dental implants to securely hold the implants in place. The dentures are attached to your mouth permanently and cannot be easily removed unless with the help of your dentist.
There are various types of partial dentures, but these permanent partial dentures are just like complete dentures — a set of prosthetic teeth attached to the jaw using dental implants to replace missing natural teeth.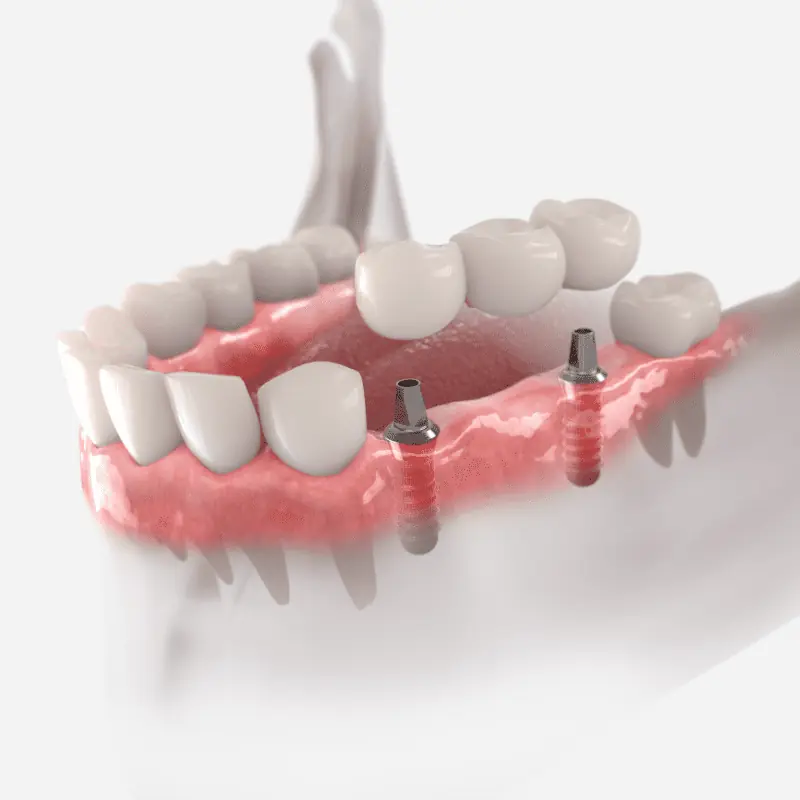 However, just as the name implies, these dentures partially cover the mouth. This means that partial dentures restore the functionality of just a few missing natural teeth and not the entire arch. These dentures are more durable than other types of partial dentures, like flexible dentures.
To create partial dentures, specialists make a plastic base or a metal framework, which is held in place using clasps that rest around your natural teeth.
Snap-on dentures, also known as overdentures, offer the same functionality as other permanent dentures. The only major difference is that overdentures can be removable, but not as easily as conventional dentures.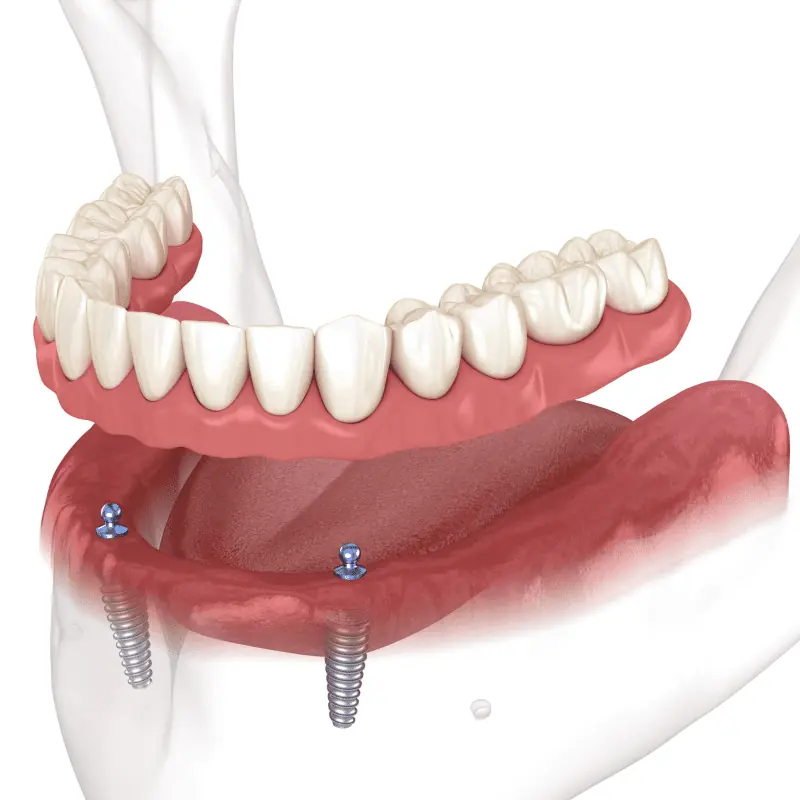 To get overdentures fixed, your dentist uses several implants (2 – 6, depending on your specific needs) that are screwed into your jawbone. The false teeth are placed on a plastic base which you can easily 'snap' onto the implants. 
These types of permanent dentures are more versatile and offer more flexibility. You can easily remove them for cleaning or overnight when sleeping. However, they are also stable and cannot slip or fall off when wearing them.
All-on-4 implant dentures
All-on-4 implant dentures involve the use of four titanium implant posts that are embedded in the jawbone at strategic intervals along the arch. 
These implants are, thereafter, attached to a denture plate. These dentures are designed to replace an entire arch of missing natural teeth to restore their functionality and improve your oral aesthetics. 
A dental bridge is ideal for people with only one or a few missing natural teeth. In essence, it is made by putting crowns on the natural teeth on either side of the gap before joining them together by placing a false tooth in the space; hence, 'bridging the gap.'
These prosthetics are cemented into place, supported by the adjacent crowns on natural teeth with special adhesives, and cannot be removed.

Procedure For Permanent Dentures: What To Expect
Permanent dentures offer a long-lasting solution to replacing missing natural teeth. However, while they offer more convenience, getting them fixed is quite time-consuming. 
Moreover, it is a more complicated procedure, unlike traditional dentures. This is because they require surgery for dental implants.
The timeline may even be longer for some people who require additional procedures like bone grafting or sinus augmentation before the implants are installed. Such additional procedures are necessary to ensure the treatment is successful, especially for patients lacking sufficient jaw bone.
Nevertheless, while the precise procedures may vary depending on your unique needs, here's a general idea of what to expect when getting permanent dentures: 
During your initial consultation, your dentist discusses your medical and dental history, also noting any prior issues that you may have. They will also need to know about any medication you are on which may hinder your treatment. 
During your first appointment, the dentist performs a thorough clinical examination, which includes dental imaging.
Dentures work when you do not have natural teeth present. In this stage, your dentist extracts any unwanted natural teeth (which may be decayed or damaged), preparing for the installation of the prosthetics.
Patients that require additional procedures, like bone grafting, will undergo the procedures at this stage.
After the extraction or bone grafting procedures, you will take a few weeks to heal. Once healed, your dentist surgically inserts dental implants into your jawbone to replace the missing teeth. This stage also takes a few weeks to allow for healing after implant placement.
Once healed from the implant surgery, the dentist takes impressions for your dentures. You will work with your dentist to decide upon the shade and size of your teeth at this point. These impressions are sent to the lab for the creation of your custom dentures. 
Once your dentures are ready, they are permanently screwed in and attached to the dental implants, giving you a new, beautiful smile.
Your dentist will closely monitor every stage, before and after permanent dentures, to ensure the success of the treatment.
How Much Are Permanent Dentures?
The overall cost of permanent dentures depends on various factors, including the type used and patient needs. Nevertheless, here's the average cost of permanent dentures:
Some costs may have vast ranges. This is because there are various factors that affect the total permanent dentures cost. 
Factors that affect the cost of permanent dentures
The total payable cost may be varied due to:
Does Insurance Cover Permanent Dentures?
Dental insurance may help cover fully or partially your permanent dentures. However, it is prudent to inquire first from your insurance provider to determine coverage before getting permanent dentures.
Permanent Dentures: Advantages And Disadvantages
It is important to consider the pros and cons of permanent dentures if you are considering them to enable you to make a more informed decision.
Pros of Permanent Dentures
Cons of Permanent Dentures
Permanent Dentures vs Implants
Permanent dentures and dental implants have one thing in common: to provide a long-lasting solution for missing natural teeth. However, they have a few differences that may make you choose one. They include: 
The use case refers to the unique needs of the patients and the best solution available. Dentures are ideal for replacing more than one missing tooth, while implants can be used to replace one or more missing natural teeth.
However, if you have many missing teeth, using a denture may be ideal than replacing all your teeth with implants. In case you have to replace an entire arch, it makes more sense to use dentures.
Both options are quite cost-effective when you consider their lifecycle. However, when talking about replacing many missing teeth, for instance, an entire arch, it makes more financial sense to use dentures instead of implants. 
An implant costs between $3,000 and $10,000. An arch for complete permanent dentures costs between $15,000 and $50,000. When you do the math, assuming you want to replace the teeth of an entire arch, permanent dentures become more cost-effective. 
However, if you seek to replace one or two missing teeth, a dental implant will be more cost-effective.
The complexity of the procedure
Permanent dentures and dental implants have a similar installation process, just that dentures include an additional step, which is the fabrication and installation of the prosthetics. Permanent dentures implants undergo the same procedure as they would when only installing dental implants. 
Nevertheless, the timeline is similar, including recovery. However, it all depends on the patient's situation and the number of teeth that require replacement.