Whether you support an aging parent, grandparent, other relatives, or friend, caregiving can be challenging. ToothWisdom.org is here to help you.
As an individual, oral health is of utmost importance. Hence, paying proper attention to the mouth is essential as the condition of one's oral health also affects the body's overall well-being, especially for the aging.
As a result, the oral faculty receives requires care just like the rest of the body. As a caregiver, proper knowledge of oral care and health for the aging is paramount to ensure that you can provide adequate and necessary care for those placed in your care. Toothwisdom.org provides you with the caregiver guide.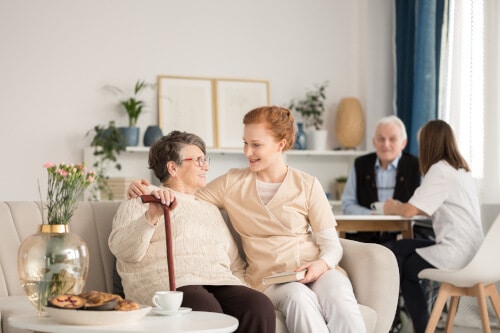 Dental care is an integral part of seniors' health. As a caregiver who desires to provide the best form of care, you need to know what to do and when to do it. This section provides insight and information on how to care for your loved ones.
Find Care for Me or Someone Else (Search State-by-State)
Keeping in mind that caregivers are all over the country and that the need for care is also not restricted to a single location, ToothWisdom.org provides a platform and an avenue through which caregivers can easily find and access care for the aging in their care.
Through the complete informative map of the country provided, all the caregiver has to do is select the state you are in, find your current location, and an array of information concerning the various locations to find care is provided for you to make use of.
Learn how to care for aging mouths
Unlike in children, youths, and adults, aging's body metabolism is a lot more delicate and tender as their bodies have reached a high peak of functionality and durability. Hence, taking care of aging bodies, particularly aging mouths, requires in-depth knowledge, patience, and a high degree of unique skills.
Here at Toothwisdom.org, you are provided with dental care every day a caregiver's guide, and there you find enough materials and sources provided to help you learn through a step-by-step process of how to care for aging mouths properly.
Visit the following for more information:
Keep up with ToothWisdom.org's blog on aging and oral health
ToothWisdom.org is an informative platform with a mission to educate caregivers and the aging themselves about everything related to aging and oral health. One of its goals is to keep caregivers up-to-date on all daily issues and topics related to aging and oral health as they apply today.
On ToothWisdom.org's blog, there are a variety of topics and articles directed at providing salient information about the aging and oral health, with such posts in a variety of areas like nutrition for the aging, laws related to the aging, lifestyle, safety, finance, trivial knowledge and so on.
Check below for some of the blog posts:
Keeping Aging Mouths Healthy: Top Resources
Providing Daily Mouth Care for Loved Ones
In a bid to prevent both oral/dental diseases and other health diseases spanning from poor dental care, the aging need to maintain proper dental care, most especially to protect their fragile health.
Providing dental care every day can be quite a task, but you can rest assured that you're providing the right dental care once you can follow the proper procedures. Daily mouth care routine for seniors includes calm brushing, flossing, rinsing, and careful inspection. Through these practices, you can guarantee that your loved one has appropriate daily mouth care.
Visiting the Dentist: A Caregiver's Guide
Asides from daily mouth care, there is also a need for regular visits to the dentist as it is an added step to ensure proper and adequate oral health. To ensure a smooth visit, certain things must be considered and prepared to avoid time wastage and guarantee your patient's utmost comfort level. Medical records, medications, if any, a list of dental issues should all be prepared beforehand to avoid stressing and for a successful visit to the dentist.
Denture Information for Caregivers
The role of oral hygiene cannot be emphasized enough, particularly when dentures are involved. Although dentures are meant to aid the aging, lack of proper care can make dentures a source of pain and discomfort.
A caregiver with a person using denture must be extra cautious of the use and effect on the patient. Proper and regular cleaning of the denture, checking the gums for sores, among others, are some of the things a caregiver should pay attention to.
Many wonder if there is any correlation between medicine and the mouth, and the answer is yes. Most times, medicines have side-effects, chemical contents, and even functions that are or can be harmful to your overall dental health, most especially for the aging.
Discussing and sharing your medical history with your dentist can help prevent mouth-related issues such as dry mouth, sores, gum bleeding, and even loss of taste and appetite from taking medications.
When Flossing is a Challenge: Alternative Gum Care
Flossing is a pertinent part of dental care because it is an added precaution towards proper dental care. One of the tips for caregivers is to go carefully to avoid injuring them, or better still, a caregiver can go for alternatives, such as a water floss. Easy to get at any drug store, the water floss flushes the gum out with water easily and effectively.
Most Frequently Asked Questions
How To Keep A Good Oral Hygiene if They Can't Do It By Themselves?
Not all aging adults can take care of their oral hygiene, and in such cases, the best you can do as a caregiver is to provide the necessary support and also provide the necessary care needed. Some of the ways to do that include:
Creating a daily schedule for dental hygiene activities and following up with the schedule religiously create a long-lasting habit.
Ensure that the dental products used are standard recommend products, like fluoride toothpaste.
Engage them in conversations about oral health and enlighten them on better ways to improve it.
Get products that will facilitate the maintenance of their oral hygiene with products such as water floss that make for easy flossing, and that will not harm them.
Schedule regular appointments at the dentist's office for a check-up and supply all the necessary information to help the dentist provide appropriate care.
Dentures And How To Keep A Good Dental Care For Your Loved One?
If the person in your care uses dentures, it is essential that the dentures are adequately taken care of and that the user is also in good hands. Dr. Jones says, "Scrub them carefully at night and store in a cup of water or an ADA-Accepted denture cleanser, and rinse the denture before putting them back in every morning."
Which Are The Necessary Equipment For Proper Dental Care?
On a general note, the most necessary equipment for proper dental care include a soft-bristle toothbrush, a standard fluoride toothpaste, the standard dental floss, or water floss if necessary. Also, a recommended mouthwash, and in cases of special dental needs, ensure to have the necessary equipment recommended by the dentist.
How To Avoid Dry Mouth Problems?
Some aging adults suffer from dry mouth due to certain medications, which often leads to other serious oral issues. To avoid such, ensure that your loved one shares their medication history with their dentists so that a solution can be found to put an end to it with a proper examination.
What To Do if They Are In Long-Term Care Facility?
The facilities ideally provide routine dental care and emergency dental care to all in their care and make it a point of duty to still check up on their dental health as their caregiver.
If the person in your care requires special dental care attention, inform the staff in charge and notify them of the dentist appointments and follow-up to ensure that they are met.
Provide special products if your loved one requires it, and make sure it is labeled with their name on it for easy recognition.