If you have dentures, then your dentist probably gave you a few instructions on taking good care of them. For instance, you were made aware that dentures can easily break or get damaged when exposed to certain circumstances. But what will you do if your dentures break, get damaged, or fall off? The best response to this would be to contact your dentist for repairs.
However, the period from getting your appointment to having your dentures repaired or getting an entirely new set might be way too long. What will you do till then? The answer to your concerns is a denture repair kit. These kits come in handy for those with dentures who want to avoid the inconvenience caused by damaged dentures.
In this post, we briefly highlight what these are, how to use denture repair kit, and a go-around for the three best denture repair kits of 2022.
What are denture repair kits?
If you're still new to these products, you may be asking, what are dentures? In layman's terms, these are temporary prosthetics used in place of missing teeth.
After some time, dentures may need to undergo repairs due to various reasons. While they are some of the oldest tooth replacement methods, dentures are still quite fragile and less durable. A poor fit, direct impact, and poor care can easily result in breaks, fractures, cracks, and even degradation.
If searching for a solution for replacing missing teeth, you may have to compare the two products dentures vs implants.
Whenever any damage affects your dentures, you will need a denture repair kit. These are kits specifically designed to hold or glue dentures back together, enabling them to function normally but for only a temporary period. They come in handy when repairing cracks, breaks, and fractures, allowing you to smile, eat, or speak normally.
However, it should be noted that denture repair kits do not act as a permanent solution to broken dentures. They only provide a temporary fix as they may not withstand the pressure from your daily activities (like chewing) for long. You will still have to get them repaired by professionals at your dentist's office.
Pros and cons of denture repair kits
Pros of denture repair kits
Cons of denture repair kits
How to use a Denture Repair Kit
While different denture repair kits may have their own specific instructions for use, they all work the same way. Here's a quick overview of how to use a denture repair kit:
Clean and dry the pieces of the denture. Ensure that there aren't any missing pieces and all the available ones fit together. If you can't fit the pieces together, the denture will not work, and seek an emergency appointment with your dentist.
Mix the denture repair kit materials. If it has both a powder and liquid, ensure that they are well-mixed to become a creamy solution.
Apply a small amount of the denture repair mixture to each broken edge of the denture.
Fit the broken pieces of the denture together or press them into position.
Hold them in place for at least five minutes.
Wipe off any excess material that may have been squeezed out.
Soak the repaired denture in hot water once the pieces are firmly held together for about ten minutes.
Remove from the water and dry carefully.
If there are any visible rough spots, you can use high grit sandpaper to smooth out the edges lightly.
Clean the denture with the recommended soap and water and fit them into your mouth.
Denture kits are made to hold the pieces of the damaged denture together for at most two weeks before you can have it repaired or changed at your dentist's office.
Caution: Never attempt other DIY fixes on broken dentures
If you're unable to get a good denture repair kit from your local pharmacies or dental clinics, you shouldn't attempt any DIY fixes. Some of the main reasons you should avoid DIY dental fixes are:
When denture repair kits may not help
Even though they are made to offer emergency assistance to broken, cracked, or fractured dentures, denture repair kits may not be ideal for all instances. Some of the scenarios where these repair kits may not be helpful during denture care include:
Top 3 best denture repair kits for seniors
If you were wondering what is the best denture repair kit, we have listed here the top three denture repair kits to consider in 2022:
Dentemp Denture Repair kit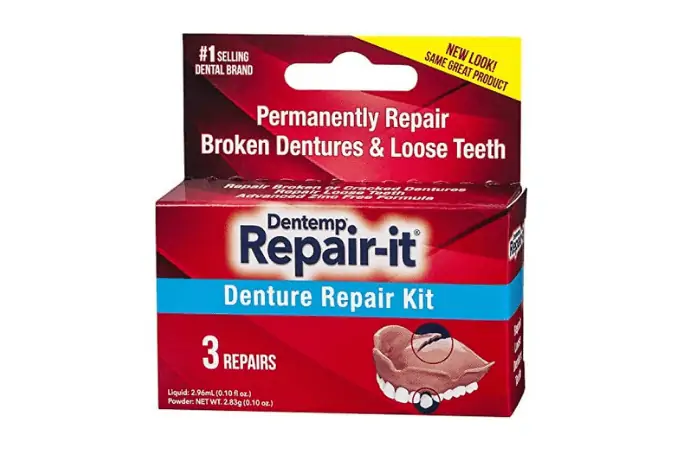 The Dentemp Repair-It denture repair kit is a must-have tool for those with dentures. It is quite convenient, effective, and above all, affordable. This kit has all you need to reverse the effects of a broken or cracked denture.
The Dentemp repair kit is zinc-free and safe for human consumption. It can be used for up to three repairs, and you can comfortably go back to your everyday life (like eating) within an hour of restoration.
Dentemp Repair-It denture repair kit costs approximately $8.62.
Where can you buy a denture repair kit? Get it at the best price here.
Secure Waterproof Denture Adhesive
The Secure waterproof denture adhesive is a waterproof denture repair kit that promises up to 12 hours of holding power. This denture repair kit is unique from other water-soluble adhesives as it prevents the unpleasant sensation of tiny particles leaking out.
One packet contains adhesive to take you for two months without going to get a denture reline or repair by the dentist. All you have to do is add 2 to 3 pearl-sized drops of the adhesive and apply them along the ridge of the denture or damaged parts. Each application can comfortably hold the dentures in place for at least 12 hours.
The Secure waterproof denture adhesive is 100% free of taste, meaning it won't alter the taste of your food.
This product costs $11.19.
Get the Secure waterproof denture adhesive at its best price here.
Instant Smile Multi-Purpose Teeth Repair Kit
Having been identified by experts as one of the most versatile professional teeth repair kits on the market, the Instant Smile Multi-Purpose Denture Repair Kit lives up to the hype. Besides repairing cracked, broken, or fractured dentures, this kit can also be used to reline loose-fitting dentures. This is all made possible thanks to the product's thermal polymer beads.
What's more, you can easily replace broken or missing teeth. This is because this is one of the only denture repair kits that include ten teeth that you can use as replacements.
There's also acrylic to help fix cracks or attach missing teeth back to the dentures. Isn't this just an all-in-one package?
Instant smile multipurpose denture repair kit costs $19.25.
Get this product at its best price here.
Denture repair kits are a must-have for any person wearing dentures. Dentures are quite fragile and might get damaged at any moment. Remember that denture repair kits are not a permanent solution and only buy you some time before you visit the dentist.